While World Engineers Day has come and gone on September 15h, the spirit of innovation and engineering excellence continues to inspire us every day.
This year, we are setting our sights on an engineering masterpiece that has been revolutionizing architectural landscapes – Panoramah!'s ah!38.
The Engineering Marvel: Panoramah!'s ah!38
The ah!38 system by Panoramah! stands as a testament to engineering excellence. This exterior opening system offers a unique combination of thermal and acoustic behavior, making it suitable for all climates. What sets ah!38 apart is its modular composition, providing incredible flexibility in the design of openings. 
Window Anatomy
The system's window anatomy boasts impressive technical specifications:
Thermal Coefficient (Uw): 0.816W/m².K (Ug: 0.47W/m².K)

Water Tightness: Class E900

Air Tightness: Class 4

Sound Insulation: 41dB

Wind Resistance: Class C5

Security: RC2


From corner solutions to pocket sliding configurations, curved layouts, tilted spans, and retractable mosquito nets, the possibilities seem endless. And that's not all; ah!38 comes in various formats, including sliding, vertical sliding, pivot, and tilt-turn units. It can even be completely automated, offering a level of convenience that was once unimaginable.
Engineering in the Real World
Panoramah!'s ah!38 transcends the theoretical realm; it is engineering in tangible action. Countless projects have harnessed the power of ah!38 to breathe life into architectural visions. Here are just a few notable examples:
Barangaroo
Sydney, Australia Collins and Turner 
© Rory Gardiner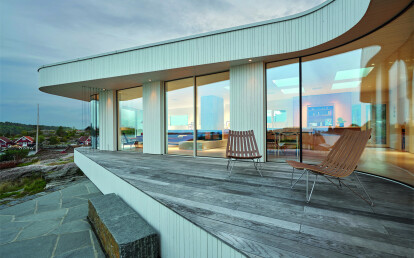 Villa AT | Kristiansand, 
Norway Saunders Architecture (Todd Saunders)
 © Bent René Synnevåg
Villa Lac
,
Switzerland GM Architectes Associés / Tiziano Borghini 
© Amir Korour
Sash House / Northumberland Place
London, UKSaunders Tigg + Coll Architects
 © David Butler
Embracing the Future of Engineering
Panoramah!'s ah!38 is more than a product; it is a testament to human ingenuity, a tangible representation of what engineers can achieve when they push the boundaries of what is possible. 
Let the ah!38 serve as a beacon of what can be accomplished when engineering excellence meets architectural innovation.
For a deeper dive into the world of ah!38, you can explore Panoramah! here.